House of Grace
Orphans Rehabilitation Home
Our Orphans Rehabilitation Home is called House of Grace. Here, children that have nowhere else to go, are lovingly looked after. Part of them are here a year round and some during their vacations, as they attend boarding schools.

House of Grace is located in Gweng Abara, about 5 km from Lira Town. It consists of 3 small buildings, which contain 5 dormitories and the room for matron and cook. A seperate building houses the dining/living area and the store.There is a primitive kitchen, toilets and two houses for the staff. The grounds comprise about 1½ hectares and is owned land. There is piped water and electricity.
Many of the children are traumatized by what they have gone through. Some have been in refugee camps, others have witnessed the slaughter of their families by the rebels. Again others have been neglected and abused by the relatives that were supposed to look after them. They are psychologically handicapped. By giving them loving care and by counseling sessions with our social worker we are trying to heal the wounds. A stable home environment works wonders for these children. They are allowed to be a child. They are looked after by local people from the same area, who understand what they have gone through. They work as volunteers and receive a small allowance each month, which enables them to also look after their own families.
The location of House of Grace is in a safe area, so the children do not have to worry about any dangers coming their way. This helps in their rehabilitation.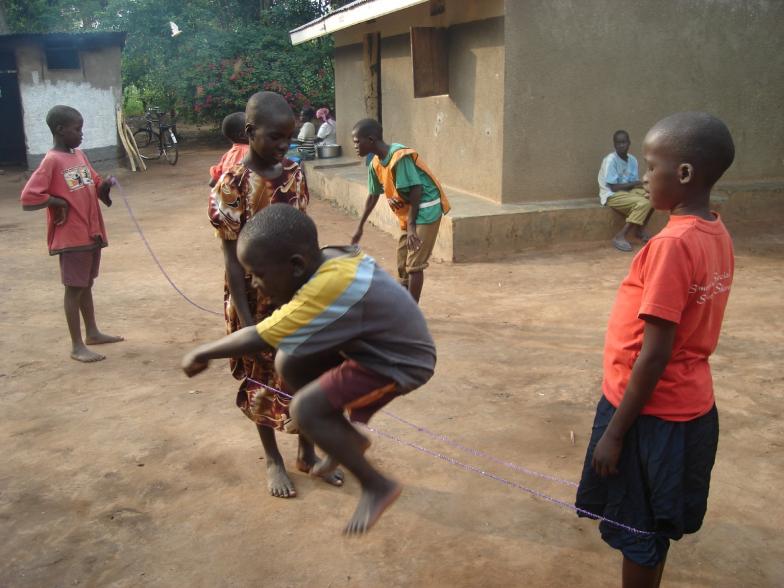 During the day the children attend our new primary school, LindA Primary School. This starts at 08.00. They eat lunch at the school. At 17.00 they come home to play and relax. The ages of the children are between 3 and 18 years. Some of them have never gone to school before, so a 15 year old in P5 is no exception.
Our orphans home is far too small for the number of children enrolled. Being able to extend House of Grace is on top of our wish list.